Printing & Packaging
COMPRINT Australia Pty. Ltd.
COMPRINT ENGINEERING INT'L LTD has been designing, manufacturing and supplying printing and packaging equipment for over 50 years.
Comprint prides itself on its retained industry and process knowledge, and offers a comprehensive engineering design service to provide the printing and converting industry with a complete "engineered solution" package, to address all processing problems.
Latest development of CTP1400 Sheeter for cutting valuable printed reel. HS1400 for paper converting industrial. Rotary hot foil stamping / diecutting production line with option rewind facility.
---
Various products from Comprint:
SHEETERS Series: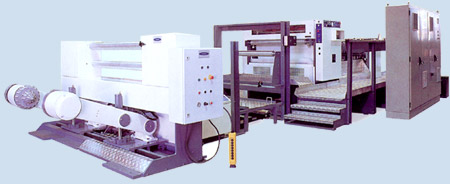 CTP 1400 Cut to Register Sheeting Machine
Maximum web width: 1400mm
Maximum speed: 300m/min
Maximum knife load: 600gsm
Cutting accuracy:+/- 0.1mm
Twin Motor (TM 1400) Sheeter
Maximum web width: 1400mm
Maximum speed: 300m/min
Maximum knife load: 600gsm
Cutting accuracy: 0.5mm
Optional Accessories
J Series Reel Stand
Auto shaftless unwind CS1500
3 station slitting unit
Individual high speed tape drive
Beater roller
Edge roll decurler
Ribbon type trim waste removal system
Web tension control
Web guiding unit
Vacuum tail arrest
Layboy top tapes
Knife air jets
Static eliminator
Cut to preprint system
Buttom knife suction device
Delivery top tapes
Tape inserter
Reject gate
Non-stop delivery
In-line with press
Auto length and squareness control
Auto shaftless Unwind

(CS 1500)

Forwarding Tape unit/Slow Down

Over Lapping Tape Unit

CTP Model

3 Station Slitting Unit

Vacuum Tail Arrest Unit



SPECIFICATION

Maximum web width

1400mm (55")

Cutt off range: maximum

minimum

1500mm (59")

400mm (16")

Max mechanical speed

300metres / min (990ft / min)

Maximum pile height

Including pallet

1200mm (47")

Maximum pile weight

Including pallet

1500kg (3300Ibs)

Services

Electrical load

16.5kw on 380 V supply

Air consumption

0.08cu. metres minute @5.5 bar

(3 cu.ft. / minute @80 p.s.i.)

Maximum knife load

Multi webs up to a total of 600gsm.

Single card up to 500gsm depending on

density and cut quality required.
---
Gravure Series:
G 1000 Gravure Press (Film/Paper)
G5000 Gravure Printing Press
SPECIFICATION
Maximum web/printing width

Minimum web width

1060/1000mm

500mm

Printing repeat range

400-800mm

Unwinder

Maximum roll diameter

Inside core diameter

Direction of unwinding & splicing

1500mm

150mm

One directions

Sheeting Specification:

Cut-off range

Cutting accuracy

Maximum stacking height

Maximum stacking weight

500-1100mm infinitely variable

+ 0.1mm for register cut

1200mm

2 tons

Rewinder

Maximum roll diameter

Inside core diameter

Direction of rewinding & splicing

1000mm

76mm

One direction

Maximum Operating Speed

Note: Print speeds are influenced by the type and quality of the substrates inks and solvents, and the printing design.

300 metres/min

Typical material range:

Paper and Cardboard

60gsm - 350gsm

Tension range

6 - 80kg

Main drive (standard) - DC thyristor controlled

38kW

Drying System

Electric with Recuperator heat recovery system.

Other systems available upon request.
---
Description





- The Comprint FG500 introduces a new concept to the printing of labels and flexible packaging.

- The modular construction of the press allows flexibility of specification, you have the choice of a comprehensive range of unwinding, rewinding and in-line converting systems.

- It can print in any one of three modes of operation:


As a dedicated flexographic printing press
As a dedicated rotogravure printing press
Or as a combined flexographic-rotogravure printing press.
Maximum web width 500m

Maximum unwind and rewind roll diameter 800mm

Maximum operating speed 150m/min

Printing repeat 250-500gsm

Typical material range
- Polypropylene - OPP/BOPP
- Polyester
- Alumimum Foil
- Paper
- Composite laminates
Multiflex 1000 Wet and Dry Laminator
Maximum coating width 1000mm

Maximum mechanical speed 250m/min.

Processing webs:
- Aluminium
- Paper
- Polyethylene
- OPP
- Polyester cellulose and a wide range of flexible packaging substrates
---
For more detail about the products, please click to www.comprint.com.hk