Printing & Packaging
AKE Boose Graphic Products
Global supplier of ink metering systems, specializing in chambered doctor blades, doctor blades systems and doctor blades for flexo and gravure printing.
Doctor Blade
AkeBoose offers a wide range of doctor blade steel and back-up blades, supplied by the world's leading manufacturers of precision strip steel.
Strip Blade Holder
The Strip-Blade doctoring system consists of ten different models of Strip-Blade holders, each designed for a specific application. The Strip-Blade holders are permanently clamped into position into any type of original blade holder, offering very fast and precise insertion of new doctor blades. Equipped with inexpensive, high quality doctor blades, only 10 mm wide, the Strip-Blade holder system typically offers a doctor blade life of one million printed metres.
B-Type holder
B20, B30, B38

C-Type holder
C30, C38
& Special type
A30, A38, B15, B30W, C38S
Strip Blades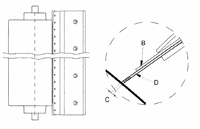 Specification:
| | | | |
| --- | --- | --- | --- |
| width | | thickness | use |
| 8.0 | x | 0.152 mm | Operates together with 10 x 0.076 mm and 10 x 0.102 mm doctor blades. Available in carbon and Stainless steel. |
| 8.5 | x | 0.152 mm | Operates together with 10 x 0.065 mm and 10 x 0.076 mm doctor blades. Available in carbon and Stainless steel. |
| 9.0 | x | 0.152 mm | Operates together with 10 x 0.065 mm doctor blades. Available in carbon and Stainless steel. |
| 14.0 | x | 0.152 mm | Operates together with 15 x 0.065 mm, 15 x 0.076 mm and 15 x 0.102 mm doctor blades. Available in carbon steel. |
Chamber System Nova XLSNOVA XLS is a new and improved version of the popular NOVA XL chamber for web formats up to 3 800 mm. NOVA XLS is a slim and strong chamber model, where the ink volume in the chamber has been reduced by 50 per cent.

The flexible blade clamping system is able to carry doctor blades from steel/plastic with thicknesses from 0.10 mm up to 1.0 mm.

NOVA XLS is ideal for all wider web applications like high quality flexo, corrugated, lamination, coating and lacquering.

– Low ink volume
– Very rigid
– All applications

Suspension SystemAll AkeBoose chamber systems are carried by the unique and very rigid AkeBoose Suspension System, allowing the chamber to run at a minimal pressure against the scren roller.

– Excellent rigidity
– Minimal doctor blade wear
– Very low running cost
– Low pressure doctoring
For more detail about the products, please click to http://www.akeboose.com/